10 Reasons to Lay Grass Seed
Whether you're reseeding your lawn or starting a new one, there are plenty of reasons to lay grass seed
There are more reasons to lay grass seed than simply starting a new lawn. From repairing bare spots to fixing a thin lawn, grass seed can be used for all sorts of lawn repairs. With the help of Estate, you can get your lawn looking new again. Read through these 10 reasons to lay grass seed to get started.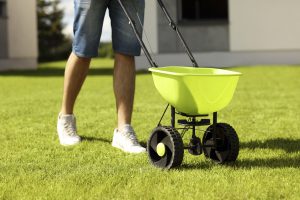 10 Reasons to Lay Grass Seed
1. Gets rid of weeds – As your lawn matures, it can start to wear out. Old grass can result in lawn weeds. By reseeding, you can get your lawn back to being healthy and green.
2. Lawn do-over – If your lawn is dry and damaged beyond repair, it might be time for a do-over. Removing weeds and poor turf, preparing and tilling and the soil, and eventually seeding will get you back on the right track.
3. Repair bare spots – Drought, dogs, and kids can all take a toll on your lawn. Use a high-performance seed to rebuild the bare turf.
4. New type of grass – If you want to change the type of grass growing in your yard, a new seed could be the answer you've been looking for.
5. Fix a thin lawn – If your lawn is thinning (typically caused by the same culprits as bare spots), it's time to put down some new seed. Again, use a turf builder to grow strong lush grass.
6. Planting a new lawn – Maybe you moved into a newly-built house, and you're ready to start growing a lawn. It's important to know which kind of grass will grow best in your region when planting a new lawn.
7. Winterizing your lawn – With winter coming, your lawn can become dormant. With a lawn winterizer, you can put in a lawn that can thrive through cold weather. When spring rolls around, your lawn will come back up lush and green.
8. Shady lawn – If you have many shady spots, you're better off planting seed than laying down sod. Most sod is grown in fields, which is great for sun-loving grass, but not so much for shadier grasses like fescue.
9. An inexpensive option – When compared to sod, grass seed is the less costly option. You won't have to worry about rolling out sod… and your wallet.
10. More variety – With grass seed, you'll have more options for which type of grass you can grow. With sod, you can only plant grass that survives in the sun–not the shade.
---
Share This Article