How and When to Apply Crabgrass Preventer
Learn When to Apply Estate Crabgrass Preventer
As the temperatures start to warm up, your lawn will start to wake up. With this comes the possibility of crabgrass. Crabgrass is a common weed that can invade your lawn. While it's not harmful, it can be an eyesore in an otherwise luscious lawn. With the help of Estate, you can learn how to get rid of crabgrass and improve the look of your lawn.
When to Use Estate Crabgrass Preventer
Crabgrass seeds start to germinate as the soil warms up. Initial emergence typically occurs when the soil gets to be about 55°F, and the majority of crabgrass seeds germinate between 60°F and 70°F. Soil temperatures are mainly influenced by sunlight, wind, moisture, and the amount of shade your lawn receives. In the Midwest, the soil reaches these temperatures in the springtime as temperatures start to warm up. Taking all of this into consideration, the appropriate time to apply your crabgrass treatment is when the soil temperature is 55°F. Keep an eye on the soil temperature in your local area by entering your city or zip code into the GreenCast soil temperature tool.
---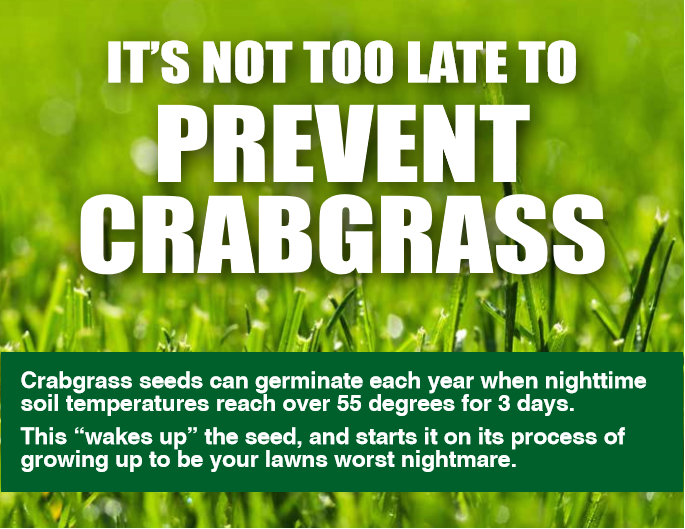 The timing in which you apply crabgrass preventer to your lawn is also very important in order for it to be effective. If used too early, it can break down before the seeds start to germinate. If used too late, crabgrass will already start taking over your lawn. Pay close attention to the soil temperature and try to apply crabgrass preventer right before it's forecasted to rain, if possible. The rain will wash the treatment off the grass blades into the soil and the crabgrass seed.
How to Apply Estate Crabgrass Preventer
Crabgrass preventer is a pre-emergent herbicide. It must be used before the crabgrass seeds have sprouted. To apply the preventer, use a lawn spreader or garden seeder. Apply it uniformly across your lawn, making sure not to miss any spots. Once applied, you'll need to water your lawn consistently to ensure the crabgrass preventer/fertilizer is activated. If you have a newly-seeded lawn, wait until you've mowed a few times before applying. Otherwise, it can kill the grass seedlings. Keep in mind that you must always follow the manufacturer's instructions when applying a herbicide to your lawn.
If you do not apply the crabgrass preventer in time do not panic. Blain's Farm & Fleet offers a wide range of crabgrass spray killers to treat this problem.
Lawn weeds can be controlled in a number of ways in addition to herbicides. You have the ability to pick weeds by hand, add mulch to your backyard, and cut your lawn on a regular basis to help prevent lawn weeds. We understand that your lawn is your pride and joy, which is why Estate offers a full line of products to protect your lawn all year long.
---
Share This Article